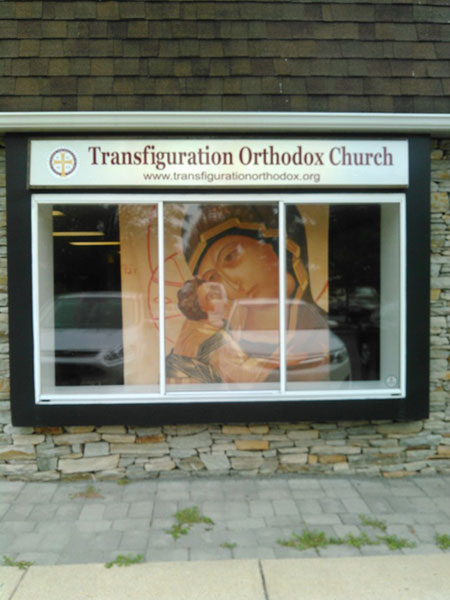 The Transfiguration Orthodox Church is an outreach ministry of the Annunciation Greek Orthodox Church (Lancaster), and is under the jurisdiction of the Greek Orthodox Archdiocese of America and the Metropolis of Pittsburgh.
Our Mission:
The mission of the Transfiguration Orthodox Church is to foster the spiritual maturity of the Orthodox Christian faithful and reach out to inquirers in northern Lancaster County.
---


Upcoming Worship Schedule
Sundays: Hours 9:00am
Divine Liturgy 9:30am
Services:
Wednesday, January 16th - Vespers for St. Anthony the Great 7:00pm
MISSION PARISH NEWS
On the move! Thanks to many helping hands, we moved our mission next door. With gratitude to God for the last 2+ years at our initial location, we begin the next chapter of our mission in a larger setting - almost double in size!. The address is 26 Copperfield Circle in Lititz.
Peter's Porch outreach ministry: We continue to partner with Lititz Mennonite Church on the second Saturday of each month with meal serving and bagging of food and more. Please continue to bring canned food and toiletries to box in back of our Church sanctuary. Contact Nadine Fegley for more info (nsfsta@yahoo.com).
House blessings during the Theophany season can be scheduled by contacting Fr Alex – by appointment only.
Online Bible Study – Contact Fr Alex to enjoy a group Bible Study in the comfort of your home! He will email you a code to join the online group on your laptop or desktop. We will study Paul's First Letter to Thessalonians on Thursdays at 7pm: January 10, 17, & 24.
Stewardship – Please fulfill your 2018 stewardship pledge and consider your 2019 commitment. 2019 pledge cards can be found in the Narthex, or you can offer your stewardship/donation through the DONATE button on this home page.
Donate to Our Parish
Please consider a donation to the Transfiguration Orthodox Church to support our ministries and mission!
Online Chapel