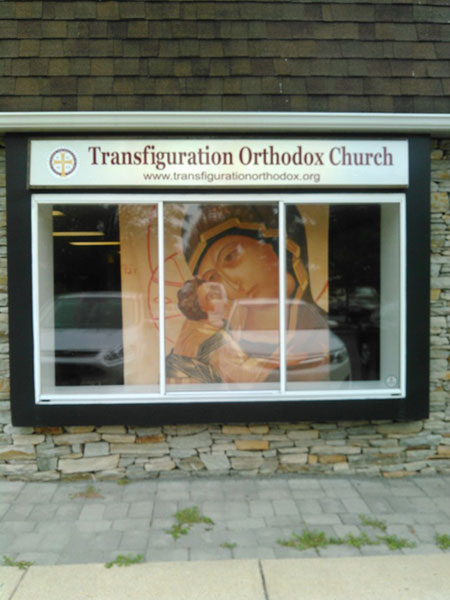 The Transfiguration Orthodox Church is an outreach ministry of the Annunciation Greek Orthodox Church (Lancaster), and is under the jurisdiction of the Greek Orthodox Archdiocese of America and the Metropolis of Pittsburgh.
Our Mission:
The mission of the Transfiguration Orthodox Church is to foster the spiritual maturity of the Orthodox Christian faithful and reach out to inquirers in northern Lancaster County.
---


Upcoming Worship Schedule
Sundays: Hours 9:00am
Divine Liturgy 9:30am
Please note:
Due to Phase II of the renovation project, the Divine Liturgy will not be offered at Transfiguration July 21 & 28.
Parish Feast Day Vespers
Monday, August 5th at 7pm
Guest homilist: Fr Steven Vernak of Christ the Savior (Steelton)
Please see Diane Kostaris on preparations for the coffee/dessert reception that we will host following the service
Paraklesis Services in August
The Paraklesis (or Supplication) service can be offered anytime of the year but is usually highlighted during the Dormition Fast period (August 1-14). We seek the prayers and intercessions of the Theotokos through petitions, Scripture reading, and engaging hymns of this service. Please email Fr Alex with the first names of Orthodox and non-Orthodox family, friends, and those in need of prayer. They will be commemorated during each Paraklesis service.
Additional Liturgical services
Paraklesis: August 1, 2, 7, 9, 12 (7pm)
Vespers for Dormition: August 14 (7pm)
Based on renovation project changes, expected to conclude July 31, a revised service schedule will be communicated through email, Facebook, and parish website.
Donate to Our Parish
Please consider a donation to the Transfiguration Orthodox Church to support our ministries and mission!
Online Chapel